We are industry leaders and experts in data analytics.
Josey is truly a dedicated career professional within the contractor industry and has built an incredibly successful portfolio of vertically-integrated companies, specializing in residential and commercial roofing, general contracting, designer glass, distribution, and technology. In addition to Cognitive Contractor, Josey is also CEO of J Wales Enterprises, J Wales Construction, J Wales Home Solutions, Designer Glass Specialties, and Think Unlimited. As a recognized expert and thought-leader within the industry, Josey shares his knowledge through speaking engagements and leadership roles with organizations like RT3 and the IRE
Chas is a retired US Naval Intelligence Officer specializing in geospatial and data analytics. During his service, he was responsible for analyzing massive datasets and delivering insights, leading to directives that keep our troops safe. Chas was the first to join Josey at Cognitive Contractor and together, they pioneered the path to identify high-value targets for roofing contractors. Chas is passionate about wrangling big data and providing big answers to the most difficult questions. Drawing from years of experience and immense expertise, he leads our research and development in constant pursuit of better results.
Ben has built his career by helping businesses thrive in today's high-tech world. As a business owner and consultant, he has managed over 50 startups across a range of industries (Retail, Distribution, SaaS, 3PL, eCommerce, Manufacturing, and Service) on projects dealing with business systems, processes, accounting, models, predictive analysis, machine learning, artificial intelligence, supply chain, and logistics. Here at CC, Ben applies his business acumen along with his technical expertise to guide our development efforts and various software solutions throughout the company.
Cody's expertise comes from over a decade in the marketing/advertising industry and from data/spatial analytics, where he has spent the bulk of his professional career. His talents lead to big answers for industry-related problems by leveraging predictive analytics, artificial intelligence, machine learning, and Big Data. Cody has assisted hundreds of clients across many verticals including retail, restaurant, healthcare, hospitality, tourism and government. Cody is responsible for operations, business growth, and strengthening our data-driven approach.
Jason is a technologist and an expert in the contractor space. He joined Cognitive Contractor in 2020, just after the acquisition of RoofSnap, where he was a partner and COO for 5 years. Jason is an extremely versatile player with expertise in operations, automation, brand development, design, marketing, sales, and technology. Additionally, he spent 10 years in commercial roofing, building business relationships around property management and providing solutions for his customers. At Cognitive Contractor, Jason is focused on developing the brand as well as building relationships with clients and partners.
Abigail is a skilled communicator, having a background in editorial at a monthly lifestyle publication and as the managing editor of a real estate development feasibility consulting firm. She also has an intimate knowledge of the roofing industry and assisting contractors in adopting technology following a five-year tenure as lead support and training content specialist for a roof estimating software. Outside of the workplace, Abigail has served as the executive director of a volunteer-operated, nonprofit art gallery where she is currently an emeritus board member. Her client-focused approach shines through in the resources she creates for Cognitive Contractor.

Aman completed his Masters of Science in 2018 and is skilled in the application of data mining techniques and artificial intelligence. He is instrumental when developing predictive models for our clients and has a special knack for acquiring "difficult data."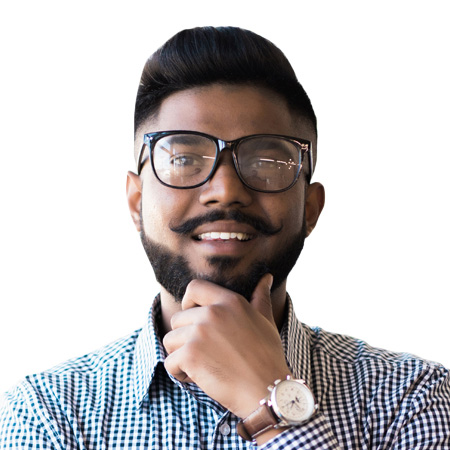 Neal comes to us with a PhD in Geospatial Analytics, Machine Learning, and Artificial Neural Networks. His experience has developed working for top US brands and within higher education. He is highly-skilled in analyzing and solving business problems by leveraging state-of-the-art AI technologies.
Jake has worked in the door-to-door, canvassing space for close to 10 years and has personally knocked over 150,000 doors. He is an expert in designing and implementing effective strategies for boots on the ground and has extensive experience consulting with organizations throughout a variety of industries across the country. Here at Cognitive, he drives the performance of our clients to greater heights by adding his expertise to their canvassing efforts and providing direct support throughout the implementation of a data-driven approach.
Greg has a natural ability to establish quality and meaningful relationships that thrive. He is results-focused, innovative, and his attitude and work ethic are contagious. He has over 7 years of experience in sales, marketing, and the data industry, focusing specifically on leveraging data to target and acquire customers through multiple channels. His extensive expertise in roofing and solar has helped hundreds of organizations drive revenue by implementing best practices and utilizing data to their advantage. At Cognitive, he is responsible for all aspects of the sales organization and its overall growth, and is focused on driving consistent, scalable ROI for our partners and their stakeholders.